Attila
™

wins ATC Maastricht 2005 Award for Innovation

The Aerospace Engineering (AE) developed application named Attila™ was awarded the Annual Air Traffic Control (ATC) 2005 Maastricht Awards Innovation Award. The ATC awards were sponsored by Jane's Airport Review and were selected by a panel of judges made up of senior representatives from the FAA, EUROCONTROL, CANSO, IATA and Jane's.

The Attila™ System, developed by AE for ATH Group (ATH), is an en-route, self-metering aircraft time sequencing system. Attila™ uses a computer-based decision process to optimize aircraft traffic flows in real-time, generating a solution around the airlines business needs and operational requirements.

Key features of Attila™ are its sophisticated multi-parameter decision engine that allows full consideration of aircraft operator priorities in the establishment of an optimized air traffic flow, the full involvement of the aircraft pilot as a goal seeking agent in the achievement of an optimized plan, and an architecture that facilitates centralized and low cost deployment.

The proven benefits of the system include:
Approximately 100 - 200 M savings per airport, per airline for major airports
Reduced holding and low altitude flying time
Reduced and more predictable block time
On-time performance improved by more than 5%
Reduced air space complexity with fewer conflicts
Reduced airport noise and pollution
Increases Capacity, Reduces Delays, And Optimizes Sequence.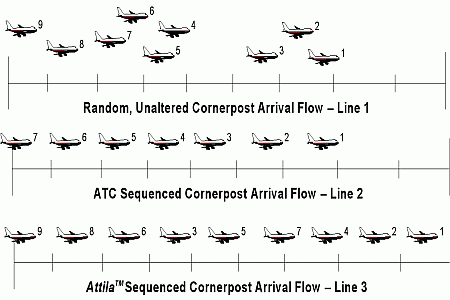 Attila™ has been demonstrated to deliver significant benefit in an operational environment. The system has under gone field trials at the St. Louis-Lambert International Airport and in Frankfurt. ATC interoperability as well as pilot compliance has been successfully demonstrated. Separate simulations undertaken by ATH Group show that the system can change the outcome of any given arrival sequence by applying a goal function that describes an improved business situation.
For more information visit www.athgrp.com.