AwSim
™

Metrics

The AwSim metrics tools consist of two separate applications - the Sector Analysis Metrics tool (SAM) and the Statistical Analysis Tool (SAT). SAM is the main metrics computational engine and provides the input to SAT. SAM is a metrics based statistical analysis software tool designed for air traffic analysis and systematic measurements of airspace configuration. The metrics tool evaluates various airspace utilization parameters on a sector and gate basis giving a direct measurement of sector load, configuration efficiency and traffic pattern complexity under different traffic pattern arrangements and airspace configurations.

The measurements done by the metrics tool rely on a partition of the airspace into regions, which may or not be coincident with ATC sectors, and gates based on the needs of the user. For each one of these regions and gates (when applicable) the program computes the following sets of metrics:
Sector load metrics
Sector 'busyness', traffic density, number of conflicts and conflict characteristics
Sector efficiency, excess distance, fuel burn, time of flight, delays, etc
Trajectory and traffic patterns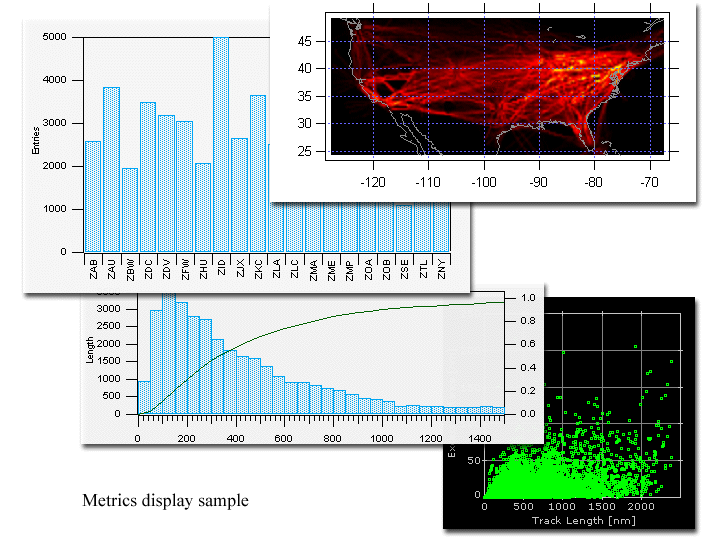 The Statistical Analysis Tool (SAT) is an application that compares two data sets by means of standard statistical tests. In principle SAT can compare any two data sets regardless of their origin or meaning. As primary input SAT accepts the raw metrics files written by SAM. SAT computes statistics that compare the actual distributions, the mean values and the variances of the input data sets. Pair-wise and population-based statistical tests are supported. SAT used in conjunction with SAM provides the means to perform systematic comparisons of any two-simulation experiments, which could be the result of two AwSim runs with different input data-sets or two runs with the same input data but at different stages of processing. SAT produces a log with the results of the statistical tests comparing each metric for each airspace involved in the simulation (as seen in the sample below).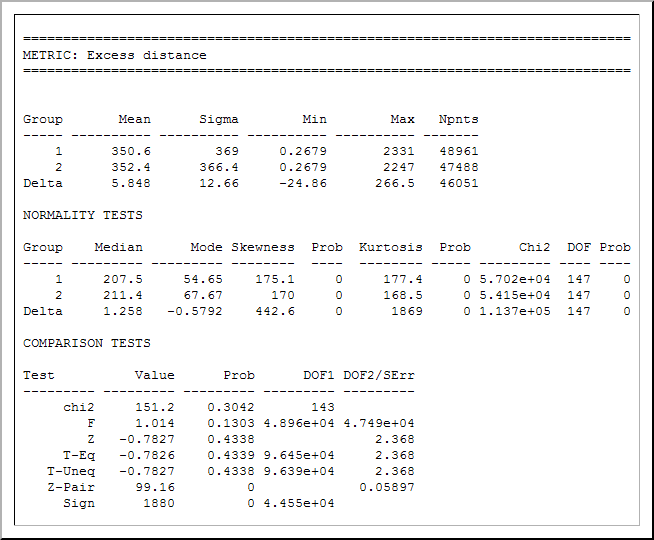 Sample SAT output